About Us
"To us, Office furniture is fashion that enhances your office work space".
The Ezeefit range of office furniture brings a revolution in the world of stylish Office Furniture. It touches the lives of thousands of people through trendy looks. This comprehensive range includes a series of innovative Office Furniture Workstations – each one of which is a perfect combination of style and functionality along with a range of storage Office furniture cabinets; Office executive Desks, Office conference Table& reception office furniture; Office filing systems and Office chairs. Therefore, it is one of the leading office furniture manufacturers with Modular office concept to the corporate industry.

Ezeefit Office Furniture fits your world exactly the way you desire most. It is a dwelling abode for a modern and artistic interior design for best and functional utility of Office space. Ezeefit serves to be a retail hub of Office Furniture for the clients who are interested in the finest quality of office furniture with modular office concept. Office Furniture has been inspired from classy designs but with sturdiness required by our Indian style of working and is a treat for customers with a keen sense of trend, taste and sturdiness.
Ezeefit thinks differently from those who believe office furnishing is mere arrangement of office desks and office chairs. It believes that an office goer spends a lion share of his total time in his office and a comfortable work place would contribute a lot to his productivity. Its elegant approach and arty designs easily fits to the aura of the entire office, and creates a positive environment.

Ezeefit Office Furniture is comprised of a group of professionals specialized in their respective fields. It acquires an advance production facility in Mumbai, where products are being manufactured. Ezeefit has a pan India work presence. Its team is capable enough to dispatch Office Furniture products and install the same at site in any state within India.

Ezeefit acquires a prowess to create the perfect, practical and customized office furniture, as per client's requirement regarding size, design, material and finish.

Ezeefit Office Furniture is being run by Bushra Creations, an Indian conglomerate headquartered in Mumbai, Maharashtra, India. It has been founded in the year 1998. It operates in a sector related to interiors of high end corporate offices, & commercial premises offering services of Office Furniture with modular office concept.

Ezeefit has been an Associate member of Indian Institute of Interior Designer through its Director, and is a life member of Trans Asian Chamber of Commerce & Industry.

Traditionally, Andheri, a suburb to western side of Mumbai has been a manufacturing base for creating office furniture, but the group has moved significant production facilities away from Mumbai. The Bushra group owns a vast land in Pimpri, Maharashtra where it has setup its production plant for manufacturing of Office Furniture.

Vision
To continually set standards of excellence in offering the best value of Office Furniture with style and comfort interior Office solutions in a Customizable manner.
Mission
To work with passion, integrity, aim for excellence in time, cost, and quality and customer responsiveness, make constant effort to improve in serving customers and develop an enabling and adaptive culture related to Office Furniture.
Procedural Chart
Ezeefit follows a Procedural Chart for Office Furniture, where the procedure of execution regarding work starting from Enquiry stage is been stated.


Enquiry for Office Furniture


Site-Visit Appointment for Office Furniture


Site-Measurement & Requirement Brief


Submission of Optional Floor Plans of Office Furniture for Approval


Office Furniture Fit-Out Costing & Finalisation


Receipt of Purchase Order & Advance for Office Furniture


Raw Material Procurement & Production of Office Furniture


Site Inspection of Office Furniture by Client at our Production facility.


Cleaning, Packing & Despatch of Office Furniture


Installation & Handover of Office Furniture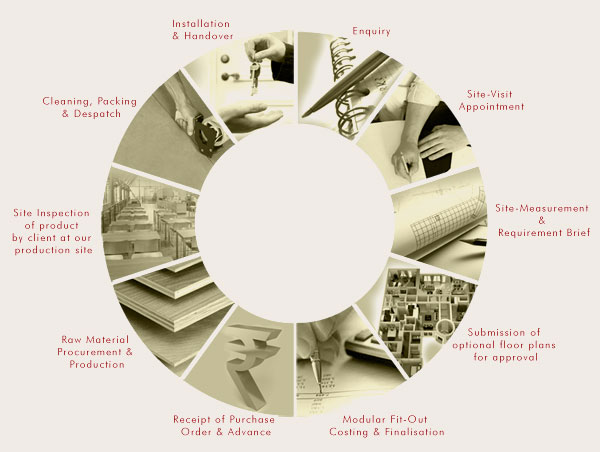 Ezeefit Office Furniture serves orders from other cities and states. It comes up with various floor plans with different configuration once existing site measurements are received. Once design and budget get approved, Ezeefit Office Furniture initiates production for the order at its facility in Mumbai and dispatches Office Furniture products along with installation personnel to the site for installation of Office Furniture.